Outdoor Knives for the Outdoorsman
Ron Duncan builds knives for the true outdoorsman. Knives built with traditional materials for traditional applications. Yet, they are not made to average levels of craftsmanship. No, Ron's knives are built to achieve extreme levels of performance.
For example Ron's blades are all forged, yes forged at temperatures in excess of 1,700 degrees and subjected to extreme pressure from a power hammer. Many believe the forged knife is superior in all respects to knives simply cut from a block of steel and ground to shape.
Simply forging steel does not guarantee a superior blade. Ron is recognized as a Journeyman Smith by the American Bladesmith Society. This title is given only to those smiths who have:
A proven track record of quality knife making
Can produce knives of the finest detail in fit and finish
Can forge a blade capable of passing the rigorous ABS test, included the ability to bend a knife blade 90 degrees without snapping!
---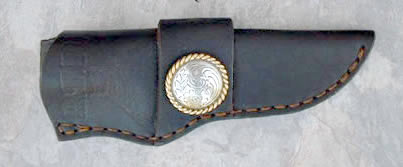 Of course no hunting knife is complete without a sheath. All Ron's leather work is done by his talented daughter Lacey.
| | |
| --- | --- |
| She can create custom sheaths for your knives as well. Contact Ron for more information. | You can be sure, your knife and sheath will be a perfect match - built for years of hard use. |
Learn more about Ron's Damascus here.
Learn more about Finishing the Knife.